Photo essay: Markets for Change in the Pacific islands
Date: 15 April 2019
The bustling markets in the Pacific islands of Fiji, Solomon Islands and Vanuatu are lifelines for women farmers and vendors, who grow and sell much of the food. Between 75 and 90 per cent of all market vendors in the Pacific are women; their hours are long, profits are often low, and working conditions difficult.
Since 2014, UN Women's Markets for Change project has been boosting leadership and financial skills of women vendors in 17 markets to make them safe, inclusive and sustainable. For the first time, women's voices are shaping market infrastructure and climate adaptation.
FIJI
In February 2016, Tropical Cyclone Winston swept across Fiji, devastating homes, farms, roads and markets. Rakiraki Market and its accommodation centre for women vendors was among the many impacted structures.
The Rakiraki market stalls after Tropical Cyclone Winston hit the area in 2016. Photo: UN Women/Anna Parini
"For most of us women market vendors, we focus only on coming to the market to make money. But what if there is a cyclone or flooding that makes it impossible for us to be in the market," asks Varanisese Maisamoa, President of Rakiraki Market Vendors Association.
The cyclone had destroyed her livelihood and most market vendors were ill prepared to mitigate its impacts. However, since then, women market vendors, equipped with leadership skills and knowledge about climate resilience, have come together to shape the reconstruction efforts.
Varanisese Maisamoa, President of Rakiraki Market Vendors Association. Photo: UN Women/Murray Lloyd.
Today, Rakiraki Market has Category-5 cyclone resilient infrastructure, a rain water harvesting system, flood resistant drainage, and a gender-responsive design—with facilities such as changing areas for babies, improved toilets and a female market attendant.
"Our vendors also know what to do before, during and after a disaster," adds Maisamoa.
She is among the women vendors who have developed leadership skills and learned to negotiate with the market council management on behalf of women vendors. Read Varanisese's story>
Further west, Ateca Ligatabua has sold fruits and vegetables in Ba market for 15 years. Her village, Nanoko, is 40 miles from the Ba market; the roads are rough and transportation is not cheap in the Pacific islands.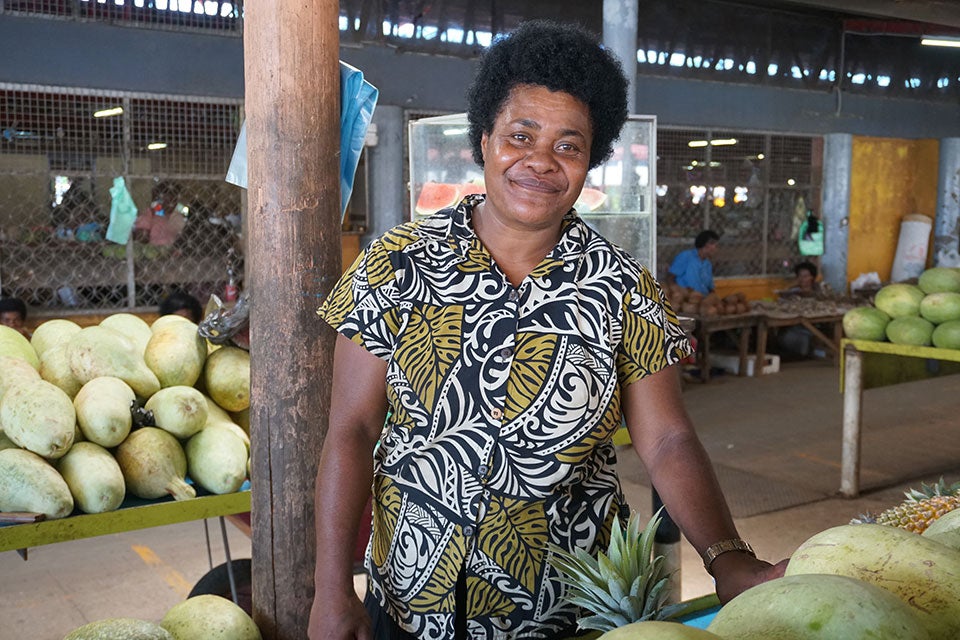 Ateca Ligatabua selling fruit and vegetables at her stall. Photo: UN Women/Caitlin Gordon King
"When I started selling in Ba market, we sometimes slept in the market by the table," recalls Ligatabua, because it cost vendors too much to hire a local van to travel back to their villages every day. "Together with a few other ladies from the distant villages, we would put up mosquito nets and sleep beside our stall."
Accommodation centre at Ba Market. Photo: UN Women/Mouna Peters
The Markets for Change programme builds upon nearly six years local initiatives, such as Partnerships Improving Markets. In 2011, an accommodation centre was built by the local Town council as a result of consultations with women market vendors and that changed everything for the women market vendors of Ba. The centres provide a clean and safe place to sleep, so that women vendors can save the money they would have spent on daily transportation and can stay in the market longer.
"It only cost USD 2 to sleep in the accommodation centre in Ba market," explains Ligatabua. "Before, when there was no accommodation centre, me and other vendors would rush to sell our produce so that we could go back to the village in the afternoon. At that time, I didn't even make any profit, I just quickly sold my produce to at least pay my fare to go back and return the next day."
Market vendors at Ba Market. Photo: UN Women/Atunaisa Drivatiyawe
SOLOMON ISLANDS
Gizo Market Vendors' Association is among the most recent associations to be launched under the Markets for Change project in the Solomon Islands.
Market vendor Loa Qula displays her peppers for sale at Gizo Market. Photo: UN Women/ Andrew Plant
The President of the Association, Lauretta Nasala, is excited about being able to participate in market management meetings.
"Now we have a good relationship with the provincial government and the contractors. We are usually part of the monthly Market Steering Committee meetings," says Nasala. The committee oversees the management of Gizo Market, hence being able to shape decisions there matter a lot to women vendors. "Before, everyone looked down on us vendors… we were no body. But now market vendors' voices are reaching that upper level," she added.
Gizo Market. Photo: UN Women/ Andrew Plant
Some of the issues that women market vendors are addressing in Gizo market include fencing of the market site; access for the market vendors from the seawall by boat; market benches; fish vendors area and amenities such as clean water and toilets.
Members of the Gizo Market Vendors Association Executive Committee assist market vendor Aneth Keva with association registration. Photo: UN Women/ Andrew Plant
For Janet Ramo, President of the Auki Market Vendors Association, which was set up in mid-2014 and formally registered in 2015, being able to participate in market budget meetings has been an eye-opener.
"We have participated in the budget consultation," she says. "This is first time ever that we could see the budget of the market. Before the Association was formed, we were always curious, how did they use our market fees? Where did our money go? But since the association was formed, we have the opportunity to be part of the budget discussions, and we can clearly see where our money is going."
Janet Ramo, President of the Auki Market Vendors Association, addresses vendors at the Gizo Market. Photo: UN Women/Andrew Plant
Through the association, women vendors are also able to influence allocation of the market budget to address specific needs of women, such as security fencing, water and sanitation, roof extension and solar lighting.
Market vendor Betty Ringili with the cassava she sells at Gizo Market. Photo: UN Women/ Andrew Plant
The Auki Vendors' Association, along with 40 other representatives from Gizo and Honiara Central Market Vendors Associations gathered in Honiara for the inaugural Market Vendors' Association Forum in Solomon Islands last year. The Forum provided a platform for open discussion and learning, giving them a chance to strengthen their associations, a first for the country.
Market vendor association executives from Auki and Honiara at the inaugural MVA Forum in Solomon Islands, September 2018. Photo: UN Women/Sharon Tohaimae
VANUATU
In Vanuatu, women vendors of Port Vila market reviewed the market bylaws, identified gaps and discussed how to address common concerns.
In Vanuatu, through the Markets for Change programme, the vendor associations provide an avenue for vendors to collectively celebrate their success and to discuss issues affecting their business during their annual meetings. Photo: UN Women/ Rachael Kong
"It was good that they brought us together to inform us about the market bylaw developed by the municipality because it wouldn't be right if the [municipality] enforced the bylaw without our knowledge," says Morasi Joel, a Port Vila market vendor from Teouma valley. "We had the chance to discuss about things that the municipality should do for the mamas." For example, market vendors pointed out the need for better security at the market, lower market fees and provision and fair allocation of tables for registered vendors in the market.
"Today, I am representing more than a hundred women in this bylaw consultation forum for Port Vila market. I hope the council can accept the ideas and discussions raised today because it will really benefit the women and help them develop further and make improvements in their homes, school fees and others," says Seru Obed, Port Vila market vendor from Epule village.
"Since I joined the association, I saw a big improvement in my life," said former President of the Silae Vanua Market Vendor Association, Eslin Solomon. "When the mamas bring their issues to the association, I have confidence to go and speak out to friends and donors to come and support the mamas in their small businesses." Photo credit: Photo: UN Women/Trisha Toangwera
"What I liked and made me interested to become part of the project was that it united market vendors together. As a market vendor, I understood that if I was alone, I had no a voice but with a group of women, I can have a voice and we can improve our market business," said Leisavi Joel, former Vice-President of Silae Vanua Market Vendors Association and market vendor.
Consultations with the vendors associations has also led to further improvement in the markets, e.g. the installation of a PA system at the
Port Vila market
to improve communication between the vendors and market management. Photo: UN Women/Trisha Toangwera
---
The UN Women Markets for Change Project is funded by the governments of Australia and Canada with United Nations Development Programme as a key implementing partner.