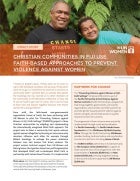 The November 2021 edition of the UN Women impact stories sample UN Women's work on ending violence against women and girls globally, together with our partners, in Fiji, Morocco, Haiti, Ukraine, and Rwanda.
This policy brief reviews the effects of cash transfers on the rights and capabilities of adolescent girls and boys, using a gender and capability lens and focusing on three key capability domains: education, sexual and reproductive health, and freedom from violence. Based on this evidence, the brief highlights the importance of a "cash plus" approach to enhancing adolescents' multidimensional well-being and achieving the 2030 Agenda for Sustainable Development.
This paper looks to our understanding of the gendered implications of rural land dispossession through a comparative analysis of five cases that were driven by different economic purposes in diverse agrarian contexts. It identifies some of the common gendered effects of land dispossession, and demonstrates ways in which the gendered consequences of land dispossession vary qualitatively across cases. It was produced for UN Women's flagship report, World Survey on the Role of Women in Development 2014: Gender and Sustainable Development. It is now also released as part of the UN Women discussion paper series.