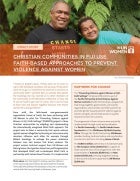 The November 2021 edition of the UN Women impact stories sample UN Women's work on ending violence against women and girls globally, together with our partners, in Fiji, Morocco, Haiti, Ukraine, and Rwanda.
This policy brief reviews the effects of cash transfers on the rights and capabilities of adolescent girls and boys, using a gender and capability lens and focusing on three key capability domains: education, sexual and reproductive health, and freedom from violence. Based on this evidence, the brief highlights the importance of a "cash plus" approach to enhancing adolescents' multidimensional well-being and achieving the 2030 Agenda for Sustainable Development.
This discussion paper provides an updated analysis of gendered economic inequality in high- and middle-income countries. A review of the literature demonstrates that such an analysis needs to explicitly recognize that gender, poverty, and (economic) inequality are intrinsically linked. It was produced for UN Women's flagship report, Progress of the World's Women 2019", and also released as part of the UN Women discussion paper series.