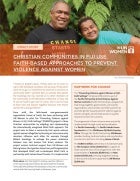 The November 2021 edition of the UN Women impact stories sample UN Women's work on ending violence against women and girls globally, together with our partners, in Fiji, Morocco, Haiti, Ukraine, and Rwanda.
Analysing data from 11 national household surveys, this research found that, while women typically earn less than men and pay more in transfer fees, the average remittance amounts they send are the same as or even greater than those of men, implying that they tend to remit a larger portion of their earnings than do men. The research also showed that migrant women are more dependent on in-person cash transfer services to send remittances.
This policy brief reviews the effects of cash transfers on the rights and capabilities of adolescent girls and boys, using a gender and capability lens and focusing on three key capability domains: education, sexual and reproductive health, and freedom from violence. Based on this evidence, the brief highlights the importance of a "cash plus" approach to enhancing adolescents' multidimensional well-being and achieving the 2030 Agenda for Sustainable Development.