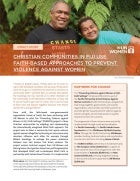 The November 2021 edition of the UN Women impact stories sample UN Women's work on ending violence against women and girls globally, together with our partners, in Fiji, Morocco, Haiti, Ukraine, and Rwanda.
Complementing the Global Humanitarian Response Plan for COVID-19, this accompanying gender programme from UN Women seeks to support the whole of the humanitarian system to deliver better for women and girls in the midst of this global pandemic. The programme's overall objective is to ensure that the most affected and at-risk women and girls play their fullest role in response to COVID-19 and are protected from its impacts.
This discussion paper makes the case for investing in free universal childcare services of high quality in order to reduce gender inequality in earnings and employment. It estimates the employment-generating and fiscal effects of investing in free universal childcare in three middle income countries: South Africa, Uruguay, and Turkey.