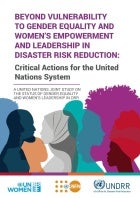 This report asks what needs to change in the approach of the United Nations system as a whole to make significant practical progress on gender equality in disaster risk reduction by 2030. It asks how the United Nations system, and each individual entity, can better support Member States to empower women and promote women's leadership in disaster and climate risk governance to underpin risk-informed sustainable development that leaves no one behind.
This brief series recognizes that, despite advancements, we have to build a stronger bridge between empirical scholarly work, new policy directions, and actual practice on the ground. The series seeks to address that gap and contribute to the realization of the women, peace and security agenda through the promotion of evidence-based policy and practice.
This study ascertains the levels of existing funding flows to gender equality and the empowerment of women and girls, and the impact of shortfalls on global humanitarian outcomes.