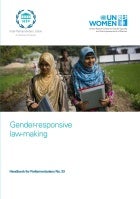 UN Women partnered with the Inter-Parliamentary Union to prepare a handbook on gender-responsive law-making. This handbook aims to serve as a resource for lawmakers from around the world for designing gender-responsive laws. Such law-making should address the strategic needs of women and girls and must encompass enacting new laws and amending or repealing laws which are outdated, inconsistent with constitutions, or discriminate against them.
This handbook, produced by UN Women and the ILO, provides practical guidance and examples of how to address violence and harassment against women in various work settings. The handbook includes: background on the issues, relevant international and regional policy and legal frameworks, the role of state and non-state actors, social dialogue, situations in which women are more exposed, how to respond, and entry points for prevention.
Identifying fiscal space for achieving the Sustainable Development Goals is increasingly recognized as a priority by all development actors. This innovative working paper produced by ILO, UNICEF and UN Women considers options for 187 countries to support an expansion of public investments, especially for social investments.