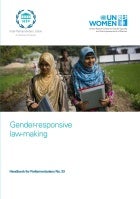 UN Women partnered with the Inter-Parliamentary Union to prepare a handbook on gender-responsive law-making. This handbook aims to serve as a resource for lawmakers from around the world for designing gender-responsive laws. Such law-making should address the strategic needs of women and girls and must encompass enacting new laws and amending or repealing laws which are outdated, inconsistent with constitutions, or discriminate against them.
This training manual is designed for actors involved in the prevention and countering of violent extremism (P/CVE) in Europe and Central Asia including state officials, members of non-governmental organizations, community activists, staff of UN agencies, international and regional organizations to help them understand violent extremism's gender dimensions.
Access to justice is critical for the effective implementation of the 2030 Agenda for Sustainable Development. "A practitioner's toolkit on women's access to justice programming" was developed by UN Women, UNDP, UNODC and OHCHR to stimulate bolder gender-responsive justice interventions. It harnesses experiences, lessons learned, and promising practices for creating non-discriminatory and inclusive justice systems, empowering women and girls to claim and fully realize their rights.