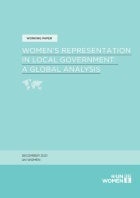 This working paper features data and analyses of women's representation in 133 countries and areas. The paper considers the impacts of legislated quotas and electoral systems in local elections on women's political participation and identifies remaining data gaps on women's political participation in local government, including data disaggregation, underused electoral data, and the need for new data collection tools.
This working paper analyses how women leaders at the national and subnational levels of government managed COVID-19 response and recovery from January 2020 through March 2021. The paper finds that women decision-makers demonstrated effective leadership, rapid response, and implemented socially inclusive policies and provides recommendations on how to ensure women's participation and contribution to the pandemic response and recovery.
This brief shines a light on the critical role of women's leadership in responding to COVID-19 and preparing for a more equitable recovery. In addition to considering the pandemic's immediate impacts on women's political participation, the brief demonstrates the opportunity to "build back better" by including and supporting women, and the organizations and networks that represent them, in the decision-making processes that will ultimately shape the post-pandemic future.