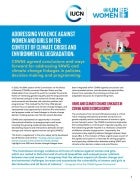 This policy paper highlights how the linkages between violence against women and girls and climate change have been integrated in the agreed conclusions and recommended actions coming out of the 66th session of the Commission on the Status of Women, and discusses key opportunities drawn from examples of promising practices and adaptable resources for implementing them.
Grounded in a series of case studies from research and programming experience, this report offers a comprehensive framework for understanding how gender, climate, and security are inextricably linked.
Adequate and dignified care provision for elderly populations is becoming an urgent policy issue, not only in high-income countries, but also in many middle- and low-income ones. This discussion paper documents and analyses varieties of eldercare policies, and their readjustments, in East Asia and Europe.