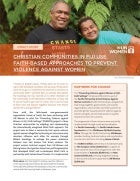 The November 2021 edition of the UN Women impact stories sample UN Women's work on ending violence against women and girls globally, together with our partners, in Fiji, Morocco, Haiti, Ukraine, and Rwanda.
This edition of the "UN Women impact stories" series focuses on UN Women's response to the COVID-19 pandemic. From the moment the pandemic broke, UN Women drew worldwide attention to specific tolls on women and girls. This selection of stories highlights how we and our partners quickly shifted efforts to ensure that women and girls are at the centre of the COVID-19 response.
This brochure showcases some of UN Women's thoughts and practices around innovation that could accelerate gender equality and women's empowerment. The examples range from pilot programmes with marginalized beneficiaries to partnerships with start-ups; from frontier technologies to non-tech interventions that challenge mindsets; and from procedural improvements to capacity-building.