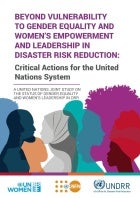 This report asks what needs to change in the approach of the United Nations system as a whole to make significant practical progress on gender equality in disaster risk reduction by 2030. It asks how the United Nations system, and each individual entity, can better support Member States to empower women and promote women's leadership in disaster and climate risk governance to underpin risk-informed sustainable development that leaves no one behind.
This guidance tool aims to explain the practical steps towards enhancing the quality of women's land rights data and statistics for data producers, analysts, and researchers. In doing so, it addresses critical gaps in the quality of the design, collection, analysis, management, and dissemination of data and statistics on women's land rights. This tool is for use by data producers and data users alike.
This decision tree guides data collectors through the various considerations, viable options, and alternative data sources for obtaining information without jeopardizing participants' safety or the data's integrity. In doing so, it aims to identify data sources and methodologies that are useful for strengthening services and referral pathways for women experiencing violence during COVID-19.