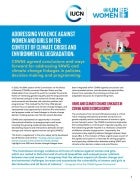 This policy paper highlights how the linkages between violence against women and girls and climate change have been integrated in the agreed conclusions and recommended actions coming out of the 66th session of the Commission on the Status of Women, and discusses key opportunities drawn from examples of promising practices and adaptable resources for implementing them.
This report explores some key indicators of women's economic empowerment in labour markets and women's political participation and economic leadership in the Indian Ocean Rim region through three dimensions: resources, agency, and achievements. It highlights good practices, case studies, and challenges and opportunities for investments and initiatives, and provides key recommendations for Indian Ocean Rim Association (IORA) Member States and other stakeholders to realize women's economic empowerment in the region.
This report examines the roles of women in fisheries and aquaculture in countries of the Indian Ocean Rim Association (IORA) and the challenges and opportunities for their economic empowerment. The report provides a set of recommendations for policymakers and other stakeholders to further advance gender equality and women's economic empowerment in this sector.