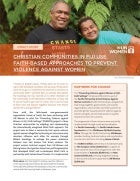 The November 2021 edition of the UN Women impact stories sample UN Women's work on ending violence against women and girls globally, together with our partners, in Fiji, Morocco, Haiti, Ukraine, and Rwanda.
Grounded in a series of case studies from research and programming experience, this report offers a comprehensive framework for understanding how gender, climate, and security are inextricably linked.
TRANSFORM Issue 14, "Working together to empower voices", is a special edition focused on the inter-related themes of gender, evaluation, transformative change, marginalized voices, and leaving no one behind in pursuit of Sustainable Development Goal 5.