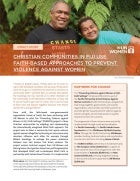 The November 2021 edition of the UN Women impact stories sample UN Women's work on ending violence against women and girls globally, together with our partners, in Fiji, Morocco, Haiti, Ukraine, and Rwanda.
This paper concerns the implications of migration within Central America for family life. Focusing on the case of Costa Rica and Nicaragua, it shows how Nicaraguan families develop strategies based on a history of informal and flexible caregiving. While these informal strategies allow families to navigate the challenges migration and family separation entail, they also contribute to continued vulnerability and reinforce the gendered burdens of caregiving within transnational families.
This paper examines government policies that aim to balance work and family life, focusing on employment based leaves and early childhood education and care services in Latin America. It was produced for UN Women's flagship report Progress of the World's Women 2015-2016 to be released as part of the UN Women discussion paper series.