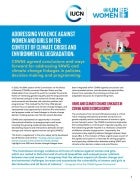 This policy paper highlights how the linkages between violence against women and girls and climate change have been integrated in the agreed conclusions and recommended actions coming out of the 66th session of the Commission on the Status of Women, and discusses key opportunities drawn from examples of promising practices and adaptable resources for implementing them.
This discussion paper provides an updated analysis of gendered economic inequality in high- and middle-income countries. A review of the literature demonstrates that such an analysis needs to explicitly recognize that gender, poverty, and (economic) inequality are intrinsically linked. It was produced for UN Women's flagship report, Progress of the World's Women 2019", and also released as part of the UN Women discussion paper series.
This report was written to highlight the experiences of women living with HIV in accessing treatment and quality care. Led by a Global Reference Group of women living with HIV, this global review uses a gender-responsive and human rights-based framework to explore the various factors that impact women's experience and decision making around treatment.