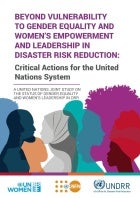 This report asks what needs to change in the approach of the United Nations system as a whole to make significant practical progress on gender equality in disaster risk reduction by 2030. It asks how the United Nations system, and each individual entity, can better support Member States to empower women and promote women's leadership in disaster and climate risk governance to underpin risk-informed sustainable development that leaves no one behind.
Around the globe, the COVID-19 pandemic has created new risks and challenges to victims and survivors of trafficking and has also worsened the vulnerabilities of at-risk groups, especially women and children, to trafficking in human beings. Based on data collected through a global survey of survivors and frontline organizations, this publication analyses the emerging COVID-19 human trafficking trends and consequences and offers concrete policy recommendations to address them.
This guidance note provides an overview of issues related to gender equality, women's empowerment and sustainable energy and provides guidance for UN programming and work with policy makers around sustainable energy that integrates the gender dimensions.