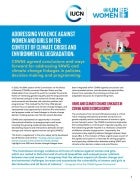 This policy paper highlights how the linkages between violence against women and girls and climate change have been integrated in the agreed conclusions and recommended actions coming out of the 66th session of the Commission on the Status of Women, and discusses key opportunities drawn from examples of promising practices and adaptable resources for implementing them.
Grounded in a series of case studies from research and programming experience, this report offers a comprehensive framework for understanding how gender, climate, and security are inextricably linked.
TRANSFORM Issue 14, "Working together to empower voices", is a special edition focused on the inter-related themes of gender, evaluation, transformative change, marginalized voices, and leaving no one behind in pursuit of Sustainable Development Goal 5.