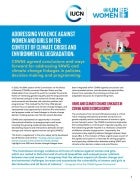 This policy paper highlights how the linkages between violence against women and girls and climate change have been integrated in the agreed conclusions and recommended actions coming out of the 66th session of the Commission on the Status of Women, and discusses key opportunities drawn from examples of promising practices and adaptable resources for implementing them.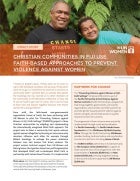 The November 2021 edition of the UN Women impact stories sample UN Women's work on ending violence against women and girls globally, together with our partners, in Fiji, Morocco, Haiti, Ukraine, and Rwanda.
This policy brief reviews the effects of cash transfers on the rights and capabilities of adolescent girls and boys, using a gender and capability lens and focusing on three key capability domains: education, sexual and reproductive health, and freedom from violence. Based on this evidence, the brief highlights the importance of a "cash plus" approach to enhancing adolescents' multidimensional well-being and achieving the 2030 Agenda for Sustainable Development.