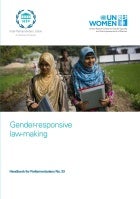 UN Women partnered with the Inter-Parliamentary Union to prepare a handbook on gender-responsive law-making. This handbook aims to serve as a resource for lawmakers from around the world for designing gender-responsive laws. Such law-making should address the strategic needs of women and girls and must encompass enacting new laws and amending or repealing laws which are outdated, inconsistent with constitutions, or discriminate against them.
This primer highlights practical ways Members of Parliament (MPs) and parliamentary staff can take action to ensure COVID-19 response and recovery decision-making addresses women's needs.
To promote and protect the rights of migrant workers, as well as develop legal frameworks that are in line with international standards on human rights, this guide seeks to be an input to formulate and implement migration laws in Mexico from a gender perspective.