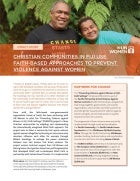 The November 2021 edition of the UN Women impact stories sample UN Women's work on ending violence against women and girls globally, together with our partners, in Fiji, Morocco, Haiti, Ukraine, and Rwanda.
Complementing the Global Humanitarian Response Plan for COVID-19, this accompanying gender programme from UN Women seeks to support the whole of the humanitarian system to deliver better for women and girls in the midst of this global pandemic. The programme's overall objective is to ensure that the most affected and at-risk women and girls play their fullest role in response to COVID-19 and are protected from its impacts.
This report was written to highlight the experiences of women living with HIV in accessing treatment and quality care. Led by a Global Reference Group of women living with HIV, this global review uses a gender-responsive and human rights-based framework to explore the various factors that impact women's experience and decision making around treatment.