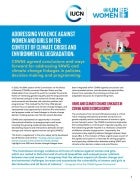 This policy paper highlights how the linkages between violence against women and girls and climate change have been integrated in the agreed conclusions and recommended actions coming out of the 66th session of the Commission on the Status of Women, and discusses key opportunities drawn from examples of promising practices and adaptable resources for implementing them.
Grounded in a series of case studies from research and programming experience, this report offers a comprehensive framework for understanding how gender, climate, and security are inextricably linked.
In this paper, we propose a conceptual framework to discuss two interrelated realms: backsliding on gender equality policies and the emerging political space for feminist responses to this backsliding. We illustrate our framework with empirical observations from three Central and Eastern European countries: Croatia, Hungary, and Poland. We aim to contribute to an understanding of the gendered aspects of de-democratization and the functioning of illiberal democracies.