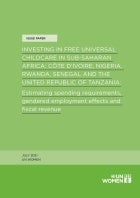 This paper argues for investing in free universal high quality childcare services in order to reduce gender inequality in earnings and employment. It estimates the employment-generating and fiscal effects of investing in free universal childcare in Côte d'Ivoire, Nigeria, Rwanda, Senegal, and the United Republic of Tanzania. The study estimates the total costs of investing in childcare services to increase the enrollment (coverage) rate for children in formal childcare services to different target levels.
Analysing data from 11 national household surveys, this research found that, while women typically earn less than men and pay more in transfer fees, the average remittance amounts they send are the same as or even greater than those of men, implying that they tend to remit a larger portion of their earnings than do men. The research also showed that migrant women are more dependent on in-person cash transfer services to send remittances.
This paper analyzes the gender dimensions of social protection in three countries in the Pacific region – Papua New Guinea, Tonga and Vanuatu – and explores how best to approach social protection so as to promote gender equality rather than risk reinscribing prevailing gender inequalities. It was produced for UN Women's flagship report Progress of the World's Women 2015-2016 to be released as part of the UN Women discussion paper series.