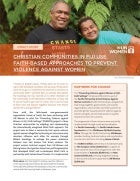 The November 2021 edition of the UN Women impact stories sample UN Women's work on ending violence against women and girls globally, together with our partners, in Fiji, Morocco, Haiti, Ukraine, and Rwanda.
Adequate and dignified care provision for elderly populations is becoming an urgent policy issue, not only in high-income countries, but also in many middle- and low-income ones. This discussion paper documents and analyses varieties of eldercare policies, and their readjustments, in East Asia and Europe.
This report on UN Women's Global Flagship Programme Initiative, Safe Cities and Safe Public Spaces, shares achievements gleaned from various participating city programmes around the world. A series of stories illustrate what authorities, grass-roots women, women's organizations and other community partners can do as part of a comprehensive, evidence-based approach to prevent and respond to sexual harassment and other forms of sexual violence against women and girls in public spaces.