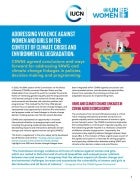 This policy paper highlights how the linkages between violence against women and girls and climate change have been integrated in the agreed conclusions and recommended actions coming out of the 66th session of the Commission on the Status of Women, and discusses key opportunities drawn from examples of promising practices and adaptable resources for implementing them.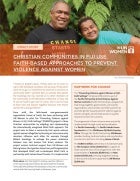 The November 2021 edition of the UN Women impact stories sample UN Women's work on ending violence against women and girls globally, together with our partners, in Fiji, Morocco, Haiti, Ukraine, and Rwanda.
This edition of the "UN Women impact stories" series focuses on women in leadership. Women's full and effective participation and decision-making in public life, as well as the elimination of violence, is crucial to achieving gender equality and the empowerment of all women and girls. These stories feature some of the women leaders who are paving the way.