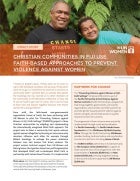 The November 2021 edition of the UN Women impact stories sample UN Women's work on ending violence against women and girls globally, together with our partners, in Fiji, Morocco, Haiti, Ukraine, and Rwanda.
This edition of the "UN Women impact stories" series focuses on women in leadership. Women's full and effective participation and decision-making in public life, as well as the elimination of violence, is crucial to achieving gender equality and the empowerment of all women and girls. These stories feature some of the women leaders who are paving the way.
This discussion paper provides an updated analysis of gendered economic inequality in high- and middle-income countries. A review of the literature demonstrates that such an analysis needs to explicitly recognize that gender, poverty, and (economic) inequality are intrinsically linked. It was produced for UN Women's flagship report, Progress of the World's Women 2019", and also released as part of the UN Women discussion paper series.