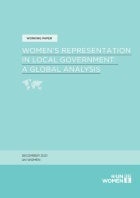 This working paper features data and analyses of women's representation in 133 countries and areas. The paper considers the impacts of legislated quotas and electoral systems in local elections on women's political participation and identifies remaining data gaps on women's political participation in local government, including data disaggregation, underused electoral data, and the need for new data collection tools.
This working paper analyses how women leaders at the national and subnational levels of government managed COVID-19 response and recovery from January 2020 through March 2021. The paper finds that women decision-makers demonstrated effective leadership, rapid response, and implemented socially inclusive policies and provides recommendations on how to ensure women's participation and contribution to the pandemic response and recovery.
In this paper, we propose a conceptual framework to discuss two interrelated realms: backsliding on gender equality policies and the emerging political space for feminist responses to this backsliding. We illustrate our framework with empirical observations from three Central and Eastern European countries: Croatia, Hungary, and Poland. We aim to contribute to an understanding of the gendered aspects of de-democratization and the functioning of illiberal democracies.