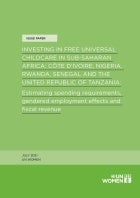 This paper argues for investing in free universal high quality childcare services in order to reduce gender inequality in earnings and employment. It estimates the employment-generating and fiscal effects of investing in free universal childcare in Côte d'Ivoire, Nigeria, Rwanda, Senegal, and the United Republic of Tanzania. The study estimates the total costs of investing in childcare services to increase the enrollment (coverage) rate for children in formal childcare services to different target levels.
Analysing data from 11 national household surveys, this research found that, while women typically earn less than men and pay more in transfer fees, the average remittance amounts they send are the same as or even greater than those of men, implying that they tend to remit a larger portion of their earnings than do men. The research also showed that migrant women are more dependent on in-person cash transfer services to send remittances.
This report is the outcome of a two-day conference on reparations for survivors of conflict-related sexual violence (CRSV) held on 8 and 9 June 2016 outside Sarajevo, in Jahorina, Bosnia and Herzegovina. It captures the successes of reparations programmes in the Western Balkans, challenges and setbacks, good practices, and lessons learned, and offers a comparative analysis of laws and policies on reparations in post-conflict countries in the sub-region.