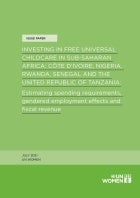 This paper argues for investing in free universal high quality childcare services in order to reduce gender inequality in earnings and employment. It estimates the employment-generating and fiscal effects of investing in free universal childcare in Côte d'Ivoire, Nigeria, Rwanda, Senegal, and the United Republic of Tanzania. The study estimates the total costs of investing in childcare services to increase the enrollment (coverage) rate for children in formal childcare services to different target levels.
This study contributes to the policy debate on early childhood education and care (ECEC) expansion in the Kyrgyz Republic, and shows an estimated cost of providing universal childcare, it's employment impact on men and women, as well as the tax revenue implication from the increased employment. The report argues that access to quality, formal ECEC plays a crucial role from the perspective of children as beneficiaries and parents as primary providers of care.
Women shoulder a disproportionate share of unpaid work around the world, and gender imbalances in the distribution of care work constitute a root cause of women's economic and social disempowerment. This paper aims to identify the policy and programmatic entry points and the key tools involved in transforming the care economy so as to promote gender equality, human development, and inclusive and sustainable growth.