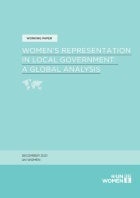 This working paper features data and analyses of women's representation in 133 countries and areas. The paper considers the impacts of legislated quotas and electoral systems in local elections on women's political participation and identifies remaining data gaps on women's political participation in local government, including data disaggregation, underused electoral data, and the need for new data collection tools.
This publication illustrates in a practical way how participating cities of the Safe Cities and Safe Public Spaces Global Initiative are working to implement women's safety approaches through the lens of intersectionality. These include a range of women-led solutions, from the creation of data, to integrated policies with meaningful participation of women's rights organizations, to urban planning solutions that prioritize minoritized women, and prevention initiatives addressing discriminatory behaviours.
This inter-agency study is a call to action based an overview of existing evidence from Africa, Asia Pacific and Latin America. It highlights that the forms and nature of violence that women and girls experience are shaped and influenced by the often multiple forms of discrimination they face. They can be based on factors such as age, ethnicity, geographic location, or disability, and intersect with gender inequality and discrimination.