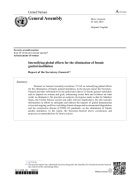 In this report, the UN Secretary-General provides information on the global prevalence of female genital mutilation and its impacts on women and girls, referencing recent data and evidence on what works to eliminate it. He provides an analysis of progress made to date by Member States, the UN system, and other relevant stakeholders. He also includes information on efforts to anticipate and address the impacts of global humanitarian crises and ongoing conflicts on the elimination of female genital mutilation. He draws conclusions and proposes recommendations for future actions.
This report assesses the status of women in the UN system for the period from 1 January 2018 to 31 December 2019. It contains recommendations aimed at assisting entities in the UN system to achieve gender parity, including through rigorous implementation of policies and a range of coordinated actions.
This report provides reviews of the activities undertaken by Member States and United Nations entities to enable women and girls, especially the poorest and most marginalized, in rural areas to improve their livelihoods, well-being and resilience in a changing climate.