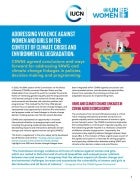 This policy paper highlights how the linkages between violence against women and girls and climate change have been integrated in the agreed conclusions and recommended actions coming out of the 66th session of the Commission on the Status of Women, and discusses key opportunities drawn from examples of promising practices and adaptable resources for implementing them.
Grounded in a series of case studies from research and programming experience, this report offers a comprehensive framework for understanding how gender, climate, and security are inextricably linked.
This publication illustrates in a practical way how participating cities of the Safe Cities and Safe Public Spaces Global Initiative are working to implement women's safety approaches through the lens of intersectionality. These include a range of women-led solutions, from the creation of data, to integrated policies with meaningful participation of women's rights organizations, to urban planning solutions that prioritize minoritized women, and prevention initiatives addressing discriminatory behaviours.