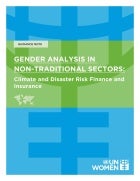 The focus in this guide is climate and disaster risk finance and insurance, a thematic area where gender analysis has been less widely implemented than in some other sectors. This guidance note is part of a capacity-building initiative aimed at enhancing the capacity of sector specialists and gender focal points to produce and utilize gender analysis in their work.
Access to justice is critical for the effective implementation of the 2030 Agenda for Sustainable Development. "A practitioner's toolkit on women's access to justice programming" was developed by UN Women, UNDP, UNODC and OHCHR to stimulate bolder gender-responsive justice interventions. It harnesses experiences, lessons learned, and promising practices for creating non-discriminatory and inclusive justice systems, empowering women and girls to claim and fully realize their rights.
This resource guide provides examples of national strategies, from transforming national and local institutions in order to break through the silence and stigma that surround AIDS and HIV, to working with communities to change attitudes and behaviours that facilitate its spread. They show what can be done when women and men living with HIV are engaged and empowered to make their needs heard and to help design solutions.