Drawing on a unique global dataset of nearly 5,000 measures adopted by 226 countries and territories in response to COVID-19, this UN Women and UNDP report finds that government responses paid insufficient attention to gender dynamics, though instances of innovation hold important lessons for gender-responsive policymaking during crises. The report analyses the factors that led to a strong gender response, generating key lessons for resilience and preparedness for future shocks.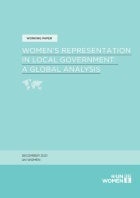 This working paper features data and analyses of women's representation in 133 countries and areas. The paper considers the impacts of legislated quotas and electoral systems in local elections on women's political participation and identifies remaining data gaps on women's political participation in local government, including data disaggregation, underused electoral data, and the need for new data collection tools.
UN Women organized an Expert Group Meeting (EGM) on "Data and violence against women in politics" (VAWP) on 4–5 December 2019, in New York, as a part of its ongoing efforts to tackle this issue. This report provides an overview of the expert discussions and the key takeaways identified during the meeting. It also highlights key discussion points to inform future efforts to collect data on VAWP.