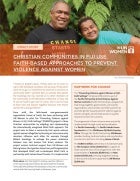 The November 2021 edition of the UN Women impact stories sample UN Women's work on ending violence against women and girls globally, together with our partners, in Fiji, Morocco, Haiti, Ukraine, and Rwanda.
This publication illustrates in a practical way how participating cities of the Safe Cities and Safe Public Spaces Global Initiative are working to implement women's safety approaches through the lens of intersectionality. These include a range of women-led solutions, from the creation of data, to integrated policies with meaningful participation of women's rights organizations, to urban planning solutions that prioritize minoritized women, and prevention initiatives addressing discriminatory behaviours.
This report on UN Women's Global Flagship Programme Initiative, Safe Cities and Safe Public Spaces, shares achievements gleaned from various participating city programmes around the world. A series of stories illustrate what authorities, grass-roots women, women's organizations and other community partners can do as part of a comprehensive, evidence-based approach to prevent and respond to sexual harassment and other forms of sexual violence against women and girls in public spaces.