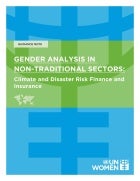 The focus in this guide is climate and disaster risk finance and insurance, a thematic area where gender analysis has been less widely implemented than in some other sectors. This guidance note is part of a capacity-building initiative aimed at enhancing the capacity of sector specialists and gender focal points to produce and utilize gender analysis in their work.
This toolkit is designed to support climate change practitioners in the Pacific islands region to integrate gender into their programmes and projects. It is aimed at climate change professionals working in national governments, non-governmental organizations, regional and international organizations who are involved in managing and implementing climate change programmes.
This resource guide provides examples of national strategies, from transforming national and local institutions in order to break through the silence and stigma that surround AIDS and HIV, to working with communities to change attitudes and behaviours that facilitate its spread. They show what can be done when women and men living with HIV are engaged and empowered to make their needs heard and to help design solutions.