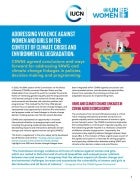 This policy paper highlights how the linkages between violence against women and girls and climate change have been integrated in the agreed conclusions and recommended actions coming out of the 66th session of the Commission on the Status of Women, and discusses key opportunities drawn from examples of promising practices and adaptable resources for implementing them.
Violence against women and girls (VAWG) and climate change are two of the most pressing global emergencies and sustainable development challenges of our time. This paper provides a brief overview of the evidence of the impact of climate change on VAWG and makes recommendations across both the climate change and ending VAWG sectors.
This manual provides step-by-step guidance to Parties to United Nations Convention to Combat Desertification (UNCCD) on integrating gender issues and promoting gender equality in the design of transformative land degradation neutrality (LDN) projects. It builds on work launched by UN Women, the UNCCD, and the International Union on the Conservation of Nature (IUCN) in advising governments on transformative efforts to avoid, reduce, and reverse land degradation through gender- and socially equitable means.