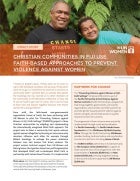 The November 2021 edition of the UN Women impact stories sample UN Women's work on ending violence against women and girls globally, together with our partners, in Fiji, Morocco, Haiti, Ukraine, and Rwanda.
This edition of the "UN Women impact stories" series focuses on women in leadership. Women's full and effective participation and decision-making in public life, as well as the elimination of violence, is crucial to achieving gender equality and the empowerment of all women and girls. These stories feature some of the women leaders who are paving the way.
This brief focuses on providing legal recommendations for the formulation and implementation of gender-responsive migration, labour, and trafficking laws. After summarizing some background information, the brief provides general recommendations for governments and related agencies. It further gives more detailed suggestions for countries of origin, transit and destination.