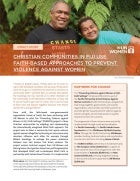 The November 2021 edition of the UN Women impact stories sample UN Women's work on ending violence against women and girls globally, together with our partners, in Fiji, Morocco, Haiti, Ukraine, and Rwanda.
Grounded in a series of case studies from research and programming experience, this report offers a comprehensive framework for understanding how gender, climate, and security are inextricably linked.
This study investigates the feasibility of leveraging big data sources—particularly Twitter, Facebook, and radio data—to improve the evaluation of gender equality and women's empowerment initiatives. In particular, this study seeks to understand the potential role of big data to evaluate the contribution of UN Women to women's political participation and leadership, using Mexico and Pakistan as case studies.