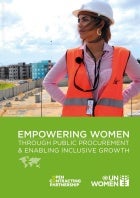 This publication summarizes the key challenges women-owned and women-led businesses are facing when competing for public procurement opportunities and presents the main approaches and policies that have made a difference across the globe. Examples from several countries are highlighted, including Dominican Republic, Chile, Colombia, Kenya, South Africa, and United Arab Emirates.
This paper investigates how women's right to live free from violence operates in the context of insecure immigration status. It identifies a tension between human rights and immigration control that is present in theory, policy frameworks, and migrant women's lived experiences. It contends that this tension has led to a proliferation of rights' statuses for migrant women who are exposed to intimate partner violence.
This paper examines government policies that aim to balance work and family life, focusing on employment based leaves and early childhood education and care services in Latin America. It was produced for UN Women's flagship report Progress of the World's Women 2015-2016 to be released as part of the UN Women discussion paper series.