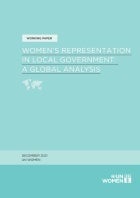 This working paper features data and analyses of women's representation in 133 countries and areas. The paper considers the impacts of legislated quotas and electoral systems in local elections on women's political participation and identifies remaining data gaps on women's political participation in local government, including data disaggregation, underused electoral data, and the need for new data collection tools.
This guidance tool aims to explain the practical steps towards enhancing the quality of women's land rights data and statistics for data producers, analysts, and researchers. In doing so, it addresses critical gaps in the quality of the design, collection, analysis, management, and dissemination of data and statistics on women's land rights. This tool is for use by data producers and data users alike.
This study serves as an evidence-based instrument that demonstrates how leveraging attitudinal change can be used as a critical tactic towards advancing gender equality. The findings have the potential to inform policymakers, advertisers, private sector leaders, civil society, and decision-makers on challenging discriminatory attitudes and gender roles that perpetuate gender inequality and women's subordinate status in society.