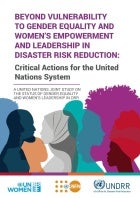 This report asks what needs to change in the approach of the United Nations system as a whole to make significant practical progress on gender equality in disaster risk reduction by 2030. It asks how the United Nations system, and each individual entity, can better support Member States to empower women and promote women's leadership in disaster and climate risk governance to underpin risk-informed sustainable development that leaves no one behind.
This checklist provides minimum requirements for the integration of gender equality in the implementation of the "UN framework for the immediate socio-economic response to COVID-19". In particular, this checklist is intended to support UNCTs that are undertaking gender/intersectional analyses and/or members of the Gender Theme Groups (GTGs) in UNCTs to effectively integrate gender equality in UNCT COVID-19 recovery and socioeconomic response plans.
The United Nations Inter-Agency Network on Women and Gender Equality (IANWGE), chaired by the Executive Director of UN Women, has responded to the call of the Secretary-General for coordinated action during the COVID-19 pandemic. This compendium captures key messages and efforts of UN entities as they address the gender dimensions of the pandemic, aligned with the five pillars of the UN framework for the immediate socioeconomic response to COVID-19.