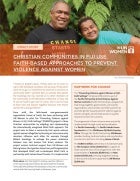 The November 2021 edition of the UN Women impact stories sample UN Women's work on ending violence against women and girls globally, together with our partners, in Fiji, Morocco, Haiti, Ukraine, and Rwanda.
TRANSFORM Issue 14, "Working together to empower voices", is a special edition focused on the inter-related themes of gender, evaluation, transformative change, marginalized voices, and leaving no one behind in pursuit of Sustainable Development Goal 5.
This report on UN Women's Global Flagship Programme Initiative, Safe Cities and Safe Public Spaces, shares achievements gleaned from various participating city programmes around the world. A series of stories illustrate what authorities, grass-roots women, women's organizations and other community partners can do as part of a comprehensive, evidence-based approach to prevent and respond to sexual harassment and other forms of sexual violence against women and girls in public spaces.