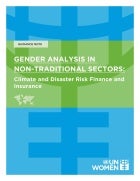 The focus in this guide is climate and disaster risk finance and insurance, a thematic area where gender analysis has been less widely implemented than in some other sectors. This guidance note is part of a capacity-building initiative aimed at enhancing the capacity of sector specialists and gender focal points to produce and utilize gender analysis in their work.
Access to justice is critical for the effective implementation of the 2030 Agenda for Sustainable Development. "A practitioner's toolkit on women's access to justice programming" was developed by UN Women, UNDP, UNODC and OHCHR to stimulate bolder gender-responsive justice interventions. It harnesses experiences, lessons learned, and promising practices for creating non-discriminatory and inclusive justice systems, empowering women and girls to claim and fully realize their rights.
This toolkit is designed to support climate change practitioners in the Pacific islands region to integrate gender into their programmes and projects. It is aimed at climate change professionals working in national governments, non-governmental organizations, regional and international organizations who are involved in managing and implementing climate change programmes.