Interview with Ulla Tøernæs, Minister for Development Cooperation of Denmark
Date: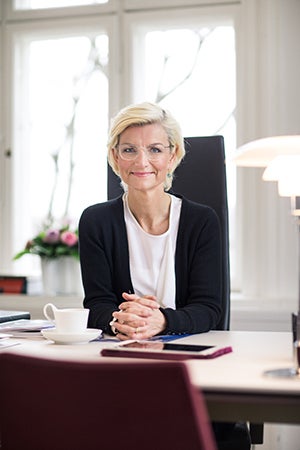 In a recent interview with UN Women, Danish Minister for Development Cooperation, Ulla Tøernæs, signals strong support for UN Women through core funding and through thematic initiatives, such as innovation. On 20 September, the Government of Denmark and UN Women will sign a Strategic Partnership Agreement for the coming four years.
Why is UN Women a good fit for channelling Denmark's development assistance?
Denmark has always been a strong supporter of UN Women. UN Women has a unique triple mandate and works to promote gender equality at a global level and gender-mainstreaming across the UN system. UN Women further played a decisive role in securing a specific gender equality goal (SDG 5) in the 2030 Agenda. Because we believe that the work of UN Women and its role in strengthening global norms and standards is a top priority, we are proud that Denmark has always been among UN Women's top donors.
From my point of view, UN Women possesses experience, knowledge and expertise that are very important. Perhaps now more than ever. In order for UN Women to contribute to the achievement of the 2030 Agenda and specifically SDG 5, it is important that its activities ensure that no one are left behind and that they target those individuals left furthest behind.
Why is gender equality important to your Government?
A: Gender equality and the empowerment of women has been a longstanding priority for Denmark, and it is a personal priority for me. Gender equality is not a fight for women by women. Men and boys must also be engaged as agents of change. The rights of women and girls are to be considered basic human rights, and yet today women and girls still face obstacles and remain disproportionally affected by poverty, discrimination and marginalization. The way I see it, we have everything to gain and nothing to lose from ensuring women's empowerment.
In terms of sexual and reproductive health and rights, which is under increasing pressure at the global level, women are often denied the right to freely control and decide on matters related to their sexual and reproductive health. That is why Denmark and other countries decided to launch the "She Decides-initiative". To put it in perspective: Every day over 800 women and girls die from preventable causes related to pregnancy or child birth, and two million girls under the age of 15 become mothers on an annual basis. If you believe in a human rights-based approach to development, this is unacceptable.
The lack of gender equality also has direct consequences in terms of reduced sustainable growth and development. UN Women's operational work is instrumental in demonstrating that gender equality is actually smart economics. Gender equality is about development for individuals, communities, societies and countries at large, and here we see UN Women playing an important role.
How do women's empowerment and gender equality feature in your multilateral aid policy?
Denmark's new strategy for development cooperation and humanitarian action has four strategic aims, of which one is Freedom and development—democracy, human rights and gender equality. This implies that Denmark will continue to be at the forefront, fighting for gender equality and women's rights. We want to contribute towards developing a world where everyone is entitled to a life in security, inclusive participation and equal opportunities.
On the multilateral side, we have made the choice to prioritize an active partnership with those UN agencies whose mandate and activities are supportive of the priorities outlined in the strategy. This is how we believe that we can best contribute to advancing a global agenda. In this regard, UN Women remains an important partner for Denmark as the organization continues to influence the development of international norms and standards on gender equality.
Denmark has a strong history of support to UN Women, through both core and non-core funding, but being particularly strong on core. Why is core funding important for Denmark?
The reason why Denmark is providing core funding to UN Women—along other UN agencies—is to allow flexibility for the organization to prioritize the allocation of funds, where it is deemed most needed. UN Women can use these funds to finance any programme within its strategic plan. It is an important element of ensuring an effective multilateral system that UN entities have such flexibility. However, core funding is increasingly constituting a diminishing part of the total funds available in the multilateral development system. This is a challenge that all UN agencies need to respond to by forging new partnerships with non-traditional donors, the private sector and others, and continuously doing their utmost to increase institutional efficiency and effectiveness.
For Denmark, core contributions will continue to be an important instrument in our development cooperation. But we are also targeting thematic initiatives, where we believe we can promote positive change. The new 2017-2019 Strategic Partnership Agreement between UN Women and Denmark has core funding as the main instrument for our support. But we are also providing funding for UN Women's efforts on innovation. We believe that it is important for funds to be set aside in a fairly lean system to stimulate innovative ways of thinking and working within UN Women. We do so because we believe innovation has the potential of reaching more people in a more effective manner, at less cost and with better end-results.