Highlights
This year's International Day for the Elimination of Violence against Women on 25 November and the UNiTE to End Violence against Women campaign's 16 days call for action are focused on strategies to prevent violence against women and girls. More
"It can be prevented"
In her statement to mark this year's International Day for the Elimination of Violence against Women (25 November), UN Women Executive Director Phumzile Mlambo-Ngcuka says "if we all work together: governments, civil society organizations, the UN system, businesses, schools, and individuals mobilizing through new solidarity movements, we will eventually achieve a more equal world—a Planet 50-50—where women and girls can and will live free from violence". More
Featured video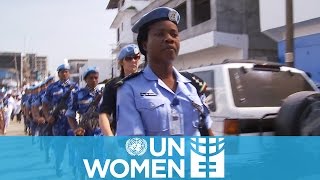 When United Nations Security Council resolution 1325 was passed, it changed history. Never before had world leaders formally recognized the key contributions of women in conflict and post-conflict interventions. On the 15th anniversary of resolution 1325, we look back at how a broad civil society movement brought this agenda to the council, and, working together with governments and UN agencies, saw the resolution through to adoption.
See full feed
UN Women Watch