Feature
"There's a long way to go": Three women share their stories of overcoming political violence in Colombia
Trailing the region, Colombian women occupy just 20 per cent of seats in Congress, while the global average of women's participation in Parliaments is 26 per cent and the average for the Americas is 33 per cent.
One of the main challenges is violence against women in politics, which has contributed to stunting Colombia's path to parity in elected and decision-making posts.
This year, to raise awareness of the need to increase women's participation as candidates in the upcoming presidential elections and reject the various forms of violence they face, UN Women, along with the Colombian Government, international partners, media and civil society, are promoting the campaign, "More women, more democracy: towards parity".
When exercising their political rights Colombian women often face humiliation, sexualized jokes, insults, rumours about their private life, and marginalization. Women in politics also experience exclusion, constant interruptions in legislative debates, and have insufficient financing for their electoral campaigns.
Johanna Melissa Rodríguez, María Camila Suárez and Mercedes Tunubalá are three Colombian women politicians who have worked for years to change politics in their country, breaking stereotypes and confronting sexism and discrimination head-on.
Tunubalá is the first indigenous woman elected as Mayor of the Municipality of Silvia, in the Department of Cauca. Dressed in her traditional Misak costume, which she always wears with pride, Tunubalá points out that she has encountered multiple forms of discrimination: "I have been belittled for the way I dress; I have been attacked for being a woman; there are government officials who ignore us because our vision of development is not the same. They even make fun of us on social media," she explains.
During her campaign for the Council of Cúcuta, in the Department of Norte de Santander, in 2019, Suárez not only felt mistreated by her party, but says another candidate asked her to withdraw, stating: "'They will believe me over you because I am a man and I have money, so step down,' he told me. … They always tell us, women, to step down. Men don't tell each other to do the same."
Rodríguez, Suárez and Tunubalá say they also had to run their political campaigns practically on their own.
"During my first campaign for the Assembly, I received a minimal amount of money from the party… but for the other elections, if there was funding, I never saw a poster or any money for my campaign," says Rodríguez. She has been active in politics for 17 years in the Department of Putumayo.
"We ran a door-to-door campaign without any money, without promising public projects, but explaining the needs and educating the people," says Tunubalá, her smile evoking her pride at having defeated her opponents through pedagogy.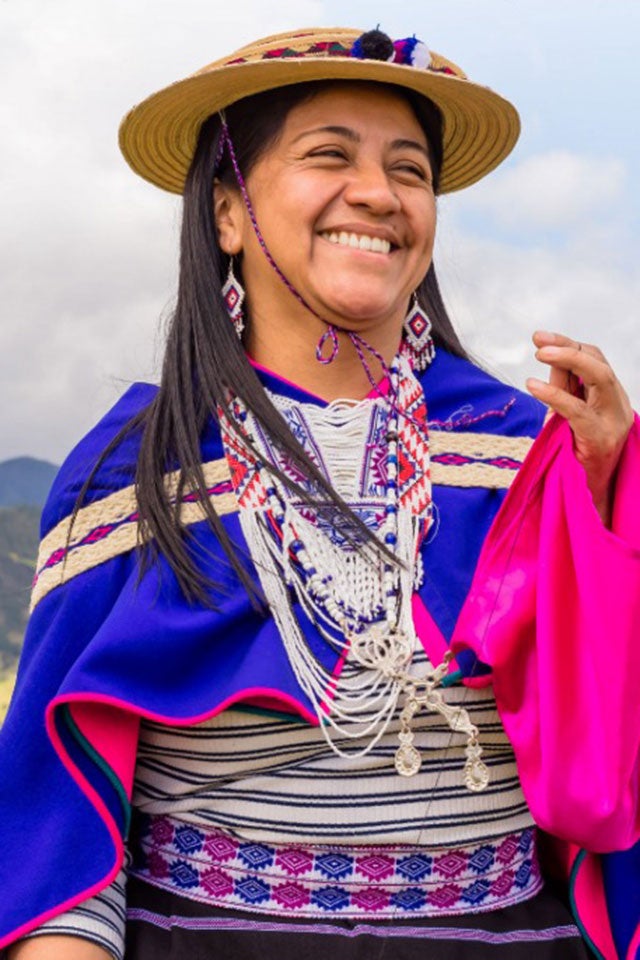 Rodríguez and Tunubalá agree that they were only able to persevere by disregarding the violent acts they encountered during their campaigns or their work after they were elected.
"They fabricated gossip to damage my honour. Even the President of the Assembly turned off my microphone during the sessions, did not let me speak," says Rodríguez.
Suárez faced similar attacks, but admits they got to her: "They made up so many things that at the end of the campaign I got depressed and isolated myself for five days."
In Colombia, violence against women in politics is just beginning to come to light. According to the study Women and political participation in Colombia: Phenomenon of violence against women in politics, carried out by the Netherlands Institute for Multiparty Democracy (NIMD), 63 per cent of the women surveyed reported being victims of violence.
However, there are no official figures on violence against women in politics in the country.
Although Colombia has yet to adopt a legal framework to address violence against women in political life, there is an institutional process that guides victims in reporting and receiving support until their case is resolved.
"The law for women's representation is there, but the need for women in politics is not acknowledged. There is a long way to go," says Suárez. "We need to make pacts among women to support each other because regardless of political visions, our experience as women is needed in politics."
Colombia has had a 30 per cent quota for women's representation for a decade; yet, for the 2018 – 2022 period, out of 279 seats in Congress, only 56 are occupied by women.