Feature
Breaking stereotypes and empowering widows in Iraq
Sakna Mahmoud, 32, spent her early childhood in the village of Hassania, close to the city of Mosul, Iraq. When she was just 13, her family arranged her marriage to a man nine years her senior, putting an end to her education.
For many women and girls in Iraq, decades of war have led to generational poverty, disrupted education and child marriage. Along with its massive death toll, the war has also left countless women widowed—including Mahmoud.
Despite the fact that there are more than 258 million widows around the world, they have historically been left unseen, unsupported and unaccounted for in our societies. Widowhood often forces women out of familial and social structures, leaving them particularly vulnerable to isolation, violence and poverty.  Between 2009 and 2013, data indicated that nearly 1 in 10 widows lived in extreme poverty.
In Iraq, women like Mahmoud are further made vulnerable by ongoing conflict. When tribal conflict broke out in her region in 2017, Mahmoud was left without security or resources, possessing no income, job or qualifications. She fled to Khazer Camp for safety, where she still lives with her mother, sister and her five children. Without a husband, Mahmoud felt alone and adrift in the community.
"I was facing difficulties dealing with people around me and knew nothing of how to solve our problems," she says. "There was shame in living in a camp and that brought about psychological pressure, which made me feel nervous, frustrated and irritable."  
To address the urgent social needs of women and girls in Khazer Camp, UN Women teamed up with Jinda Organization to provide empowerment courses targeting vulnerable women. With funding support through UN Women, Jinda Organization facilitates the Women's Empowerment for Dispute Prevention and Response Strategies programme, which aims to grow women and girls' self-confidence and inspire them to challenge patriarchal norms that have left them feeling limited in life.
Mahmoud came across the course through word of mouth, and soon she began to feel its impact in her daily life.
"I felt very frustrated and angry until I was introduced to the course. It taught me how to engage with people and provided me with the opportunity to role-play dealing with difficult people, which boosted my confidence."
Mahmoud credits the course with helping her overcome her shyness and better integrate into the camp community, ending the isolation she had been enduring. It also gave her tools to better face systemic challenges. "I feel that my friends and I have really developed since we began learning," Mahmoud says. "Most of us have very low levels of education and it puts up barriers in society."
Others who have taken the course, like 24-year-old Rojan Khalid Ibrahim, saw it as a path toward personal growth and development. As the daughter of a widow, Khalid has been supporting her mother and siblings since her father passed away. She enrolled in the course hoping to learn further independence and set an example for her community.
"When I saw the title of the project, I just wanted to be part of it," Khalid says. "I saw this as an opportunity to improve myself and for people to see my true value. People would tell me I was weak because I grew up without a father and I wanted to prove them wrong."
"Being raised without a father is really difficult in our society," she explains. "I wanted to show the world that women are strong and resilient."
Mahmoud hopes the learning opportunities for widows like herself continue.
"We need similar sessions to help develop life skills because we have multiple roles now as mothers, fathers and brothers combined. I am so grateful to my trainer, and I look forward to taking part in similar courses in the future."
Take action
To safeguard and advance widows' rights, here are some actions that governments, policymakers and each of us can take: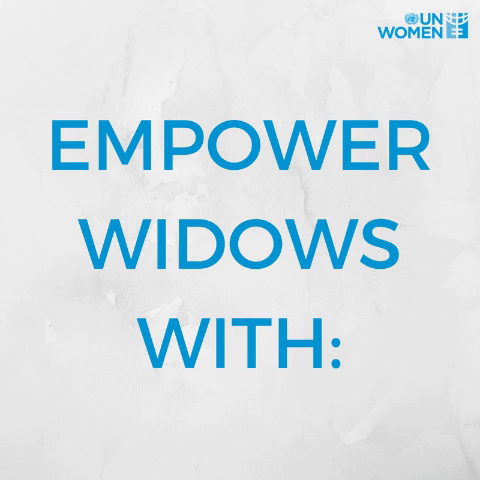 Adopt social and economic reforms to improve widows' access to inheritance, land, pensions, and other social protections. Ensure that fiscal policies, economic relief measures for COVID-19 includes widows.

End discriminatory laws and patriarchal systems that have long disadvantaged women. Women cannot inherit equally as men in 36 countries, cannot be heads of households or families in 31 countries, and cannot have a job or pursue a profession in 17 states. Such discriminatory laws, which rob widows of property, shelter, income, social benefits, and opportunity, must be struck down to advance women's rights worldwide.

Empower widows to support themselves and their families and live with dignity by ensuring access to education and training opportunities, decent work and equal pay, and by reversing social stigmas that exclude, discriminate, or lead to harmful and violent practices against widows.

Collect gender data—better quality demographic information, broken down by age and gender, to ensure that widows are counted and supported, now and in the future. The United Nations suggests a minimum of 

five marital status categories

 when collecting census data, "widowed and not remarried" included.

Support international efforts and advocacy to uphold and expand the rights of widows as enshrined in international laws and conventions.

On International Widows' Day, learn and share stories, voices and experiences of widows and support their rights. Follow #WidowsDay on social media.