News
UN Women at Women Deliver 2023: Promoting data, action, and accountability for gender equality
The Women Deliver Conference, a flagship event advocating for gender equality and women's rights, took centre stage in Rwanda on 17–20 July 2023, gathering more than 6,000 activists, policymakers, and changemakers from around the world. The conference, officially opened by President Paul Kagame of Rwanda, provided a platform for UN Women to bring together key stakeholders, fostering the exchange of experiences and renewing collective commitments on the gender equality agenda.
On behalf of the UN Secretary-General, UN Women Executive Director Sima Bahous delivered remarks at the opening ceremony, where she emphasized the crucial role of forums such as Women Deliver in driving progress on gender equality and the realization of the Sustainable Development Goals by 2030.
Ms. Bahous underscored UN Women's dedication to collaborating with all stakeholders and empowering youth movements as key agents of change. "As multilateral organizations, government, and the private sector, it is our duty and responsibility to create space for your voices to be heard, and share the power we are privileged to hold," she said.
Through UN Women events convened with partners and Generation Equality Action Coalitions, the conference further served to address the critical issues facing women and girls worldwide, providing a space for increased dialogue, showcasing inspiring success stories, and catalysing collective action towards a more inclusive and equitable world.
A call for collective action and accountability
The Generation Equality Impact Fest held at Women Deliver gathered Action Coalition leaders, commitment makers, champions, and gender advocates to showcase examples of how multi-stakeholder and intergenerational coalitions can disrupt the status quo and energize collective action for gender equality.
This year marks the midway point of Generation Equality, which aims to achieve transformative change in the lives of women and girls by 2026. The Midpoint Summit in September, co-hosted by the governments of Tanzania and Iceland, will be a moment to reflect on achievements and chart a way forward to realize the initiative's ambitious commitments by 2026.
Opened by UN Women Executive Director Sima Bahous, the Generation Equality Impact Fest high-level opening event provided an overview of the current state of global affairs and an understanding of today's anti-rights actors and their tools in pushing back against the gender equality agenda.
"Generation Equality has indeed mobilized political will", Ms. Bahous said. "The fruits of agreements and commitments made in both Mexico City and Paris are increasingly apparent. We have seen more investment in the things that matter to women and girls: strengthened national systems, the creation of regional and global cooperation mechanisms and centres, and powerful partnerships with youth and civil society."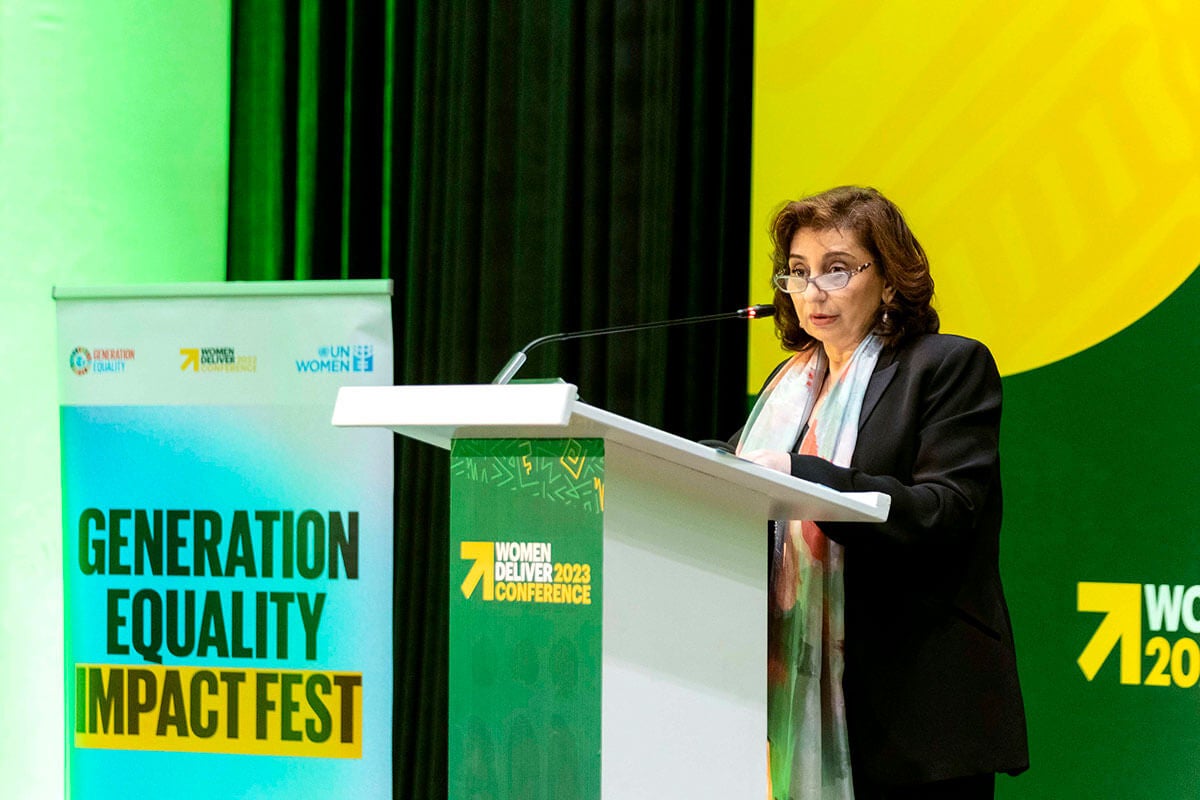 H.E. Marci Ien, Minister for Women and Gender Equality and Youth, Canada, and Maryangel García-Ramos Guadiana, Director of Women Enabled, energized the audience by emphasizing the urgency of galvanizing progress and pushing forward against the pushback on gender equality.
The Impact Fest created a platform to share how innovative multi-stakeholder, intergenerational models can counter anti-rights movements through collective action. Representatives of the Action Coalition, the United States of America, Rwanda, Ford Foundation, and Adolescent Girl Investment Plan shared how Action Coalitions can influence norms and stereotypes and how collective commitments are being used as vehicles to amplify voices from across stakeholder groups.
Concluding the session, the UN Women Executive Director and the Minister for Gender for Tanzania, Hon. Dorothy Gwajima, called for strengthened global commitment and collective action across the six Generation Equality Action Coalitions and Women, Peace and Security and Humanitarian Action (WPS-HA) Compact, and increased investments to deliver game-changing results that improve the lives of women and girls.
"We owe every woman and girl, boy and man, to every person, to devote our unreserved energies to the cause of equality today and now", said Ms. Bahous. "And we owe our planet a gender-equal future."
A high-level session on accountability unveiled the continued commitment towards Generation Equality, showcased through the doubled response rate to an annual commitments reporting survey, and allowed for an insightful conversation about the importance of feminist accountability mechanisms and the opportunities it provides to make a meaningful difference in the implementation of commitments and in achieving the results set forth in the Global Acceleration Plan.
A TED talk-style interactive event to raise awareness on the Generation Equality journey and how to join the initiative was also held at the Women Deliver Conference, gathering the Generation Equality community: members states, civil society organizations, UN agencies, and the philanthropy and private sector.
Other Generation Equality events included:
Two new experimental indices on women's empowerment and gender equality
On the side-lines of the conference, UN Women and UNDP launched a new groundbreaking report, "The paths to equal: Twin indices on women's empowerment and gender equality", which aims to redefine the measurement and understanding of progress towards gender equality. Through rigorous research and data-driven approaches, these indices illuminate the complex challenges faced by women worldwide and pave the way for policy reforms and actionable solutions.
The report findings reveal a concerning disparity, with women achieving 28 per cent less than men in terms of freedoms, opportunities, and wellbeing. Moreover, only 1 per cent of women and girls live in a country with high women's empowerment.
During the report's launch, UN Women Executive Director Sima Bahous emphasized the need for strong political leadership and the implementation of concrete actions to address these challenges, including the universal rollout of family planning programmes, measures to bridge gaps in skills and the quality of education, and greater investments in policies and services tailored to meet women's specific needs.
Read more about the launch and the report. Watch the launch event.
Amplifying efforts on women's economic empowerment
Women's economic empowerment was a prominent theme at the Women Deliver conference, recognizing its key role as a driver of gender equality, poverty eradication, and inclusive economic growth. Discussions revolved around promoting rural women's empowerment, improving access to credit and resources, and eliminating discriminatory workplace practices such as the gender pay gap.
A side event organized by UN Women and FAO Rwanda delved into strategies to close the gender gap in agrifood systems, emphasizing the critical role women play in reducing hunger, enhancing agricultural productivity, strengthening rural livelihoods, and building resilient communities.
An event convened by the Equal Pay International Coalition (EPIC) Secretariat (ILO, UN Women and the OECD), explored strategies to close the gender pay gap and promote equal pay for work of equal value in the health and care sectors, where women earn on average 24 per cent less than men. UN Women Chief of Economic Empowerment Jemimah Njuki underlined the need for the involvement of all stakeholders, including men and boys, to address the gender pay gap, and announced the upcoming launch of a new UN Women report that will present comprehensive data and fresh insights on the gender pay gap from 10 countries in East and Southern Africa.
At an event titled "Women's economic empowerment and care work in the low-carbon transition", co-organized with IDRC, Jemimah Njuki presented a number of innovative, programmatic, and policy solutions that UN Women is piloting in the nexus of climate change and unpaid care work, including the 3R Programme in Senegal and Rwanda and CEMALI programme in Mali.
The Pre-Conference on the Care Economy elevated regional perspectives on care while specifically focusing on concrete, tangible actions for change and uplifting intersectional movements for care justice.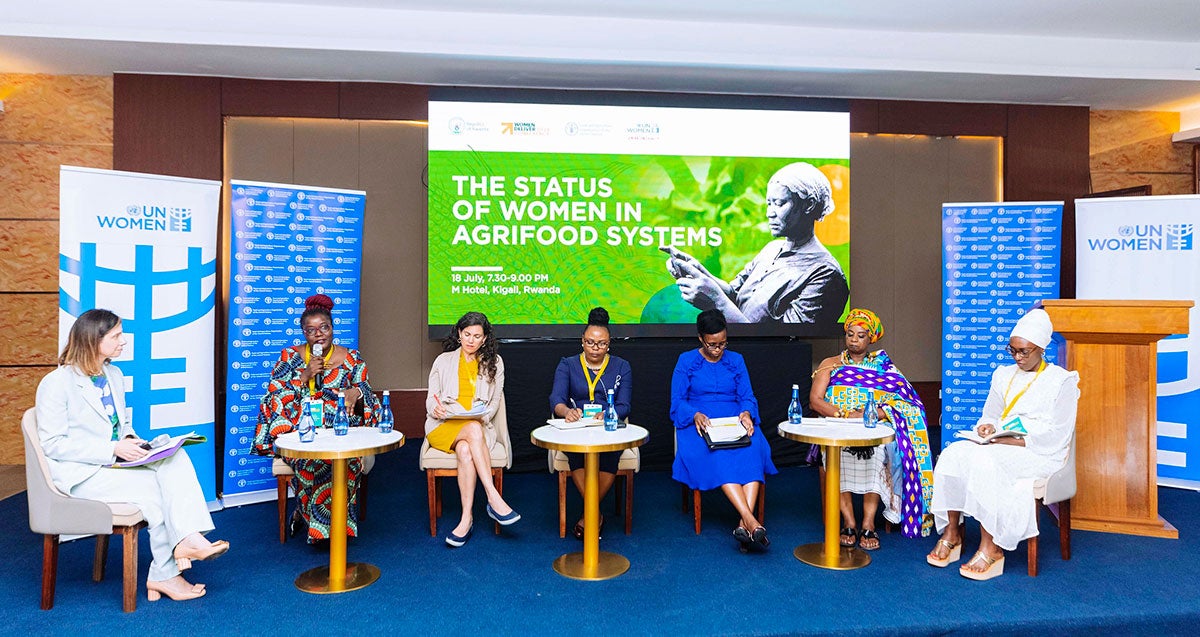 Spotlight on ending violence against women
At a WHO and UN Women pre-conference event, participants shared experiences and insights on evidence-based strategies and tools to prevent and respond to violence against women and girls.
"Bold, measurable, concrete commitments, and actions and resources are needed to meet the current needs and accelerate progress" said Maria Noel Vaeza, Generation Equality Project Executive. "Prevention of violence against women and girls must be front and centre of policies and programmes."
The event also featured the launch of the RESPECT Women framework website, an initiative led by WHO, UN Women, UNFPA, and UNDP. The website provides step-by-step guidance, links to relevant publications, and examples of country programmes all in one place, aimed at supporting efforts to prevent and respond to violence against women and girls.
The UN Trust Fund to End Violence against Women (UN Trust Fund) side event saw 44 civil society and women's rights organizations and UN Trust Fund partners come together for an open dialogue to exchange experiences and strategize for joint advocacy and collective action on ending violence against women and girls. Key recommendations from the event included the need for more flexible funding, increased investments in women-led solutions, and the need to pair funding with capacity development. Read more about the side event.
Pushing forward through solidarity and allyship
In a time when the world is facing multiple crises and a global rollback on gender equality, strengthened solidarity, greater investments in the women's movement, and women's increased participation in leadership and decision-making are key.
During a significant plenary session on countering global anti-rights movements, UN Women's Director of the Civil Society Division, Lopa Banerjee, underscored the importance of open spaces for dialogue to find common ground among differing perspectives. She emphasized the need to fund, learn from, and amplify the work and voices of women activists, youth leaders, feminist movements, and other progressive forces that are working steadily to address the pushback.
The "We no go gree!" side event, organized by UN Women Nigeria, delved into the pivotal role of women's movement building and allyship in driving substantial change for gender equality and responding to gender-based violence and harmful practices. Impactful success stories were shared, showcasing how the women's movement effectively advocated for the revival of three out of five gender bills that were previously rejected by Parliament, and how UN Women worked with male allies and traditional leaders in Nigeria to end "money-wife", a harmful practice that forced thousands of girls into early marriage.
The Women Deliver Conference served as a powerful platform to mobilize global attention and action on crucial issues affecting women and girls worldwide, with key lessons from the various spaces of dialogue pushing to ensure that, through collective effort and sustained action, women's rights and empowerment remain at the forefront of the global agenda.
Other UN Women engagements
UN Women Executive Director Sima Bahous participated in the launch of "The state of the world's fathers 2023" report, produced by Equimundo, which highlights that, although more fathers want to and are doing more care work than in the past, mothers still invest more time in the physical and emotional care of their children. Ms. Bahous advocated for stronger policies and workplace practices that promote gender equality and support the redistribution of unpaid care responsibilities within families.
At the "Pre-conference on bodily autonomy", organized by UNFPA, UN Women Director of Civil Society Division, Ms. Lopa Banerjee illuminated the pivotal role of civil society in advancing policies, advocacy, and programming for bodily autonomy and SRHR.
"The women's movement has always been at the forefront on gender equality and work on SRHR", said Ms. Banerjee. "At this moment when we are facing a push-back, funding and resourcing women's movements is crucial."
Ms. Banerjee also took part in the launch of the "State of the youth civil society report 2023", produced by Restless Development. This youth-led report offers a unique opportunity to gain insights into the biggest challenges facing feminist youth movements at the frontlines of democratic struggles around the world.
"Young leaders are not beneficiaries of change but are central to the conception and execution of Generation Equality", she said. "There are over 235 youth commitment makers to Generation Equality."
At the "Trust, power, and resources to girls and movements" event, organized by Plan International and partners, Ms. Maria-Noel Vaeza, Generation Equality Project Executive, reasserted the commitment of Generation Equality to fostering an environment where girls are empowered to participate.