Feature
Empowering students in Albanian schools through self-defense training
The 2018 national survey on violence against women in Albania revealed that 82.9 per cent of incidents of sexual harassment occurred in public spaces, and 42.3 per cent occurred in schools. Women reported that more than half (51.2 per cent) of these incidents were perpetrated by friends or acquaintances and 32.6 per cent were perpetrated by peers in schools. A UN Women initiative, as part of a joint UN project funded by the Government of Sweden, is training teachers across the country in self-defense and communications skills to prevent and mitigate the risk of violence in schools.
When Brunilda Kondi, a physical education teacher who has played basketball for 31 years, signed up for an empowerment through self-defense (ESD) training course, she thought her skills were already optimal. However, Kondi soon realized that the training had much to offer her. "What I learned in this training about self-defense exceeded my expectations," she says. "I gained something that will be useful to me for the rest of my life."
Kondi, who teaches at the Sami Frashëri High School in Durrës, western Albania, was among 30 schoolteachers from 10 schools across the country who completed the seven-day training course, which equipped them with physical and theoretical skills on how to create and maintain safer school environments and classrooms when working with teenagers. Organized by UN Women, ESD Global, and local partner Aikido Albania, the training used practical exercises and non-formal teaching techniques to provide teachers with the requisite knowledge and skills.
Having completed the ESD training, the teachers are now ready to pass the knowledge on to their students and communities.
"This training has changed us both at a professional and personal level," says Lindita Puka, a chemistry teacher at Aleksander Moisiu High School in Kavaje. "We will be able to convey the knowledge and skills to our students," Puka adds.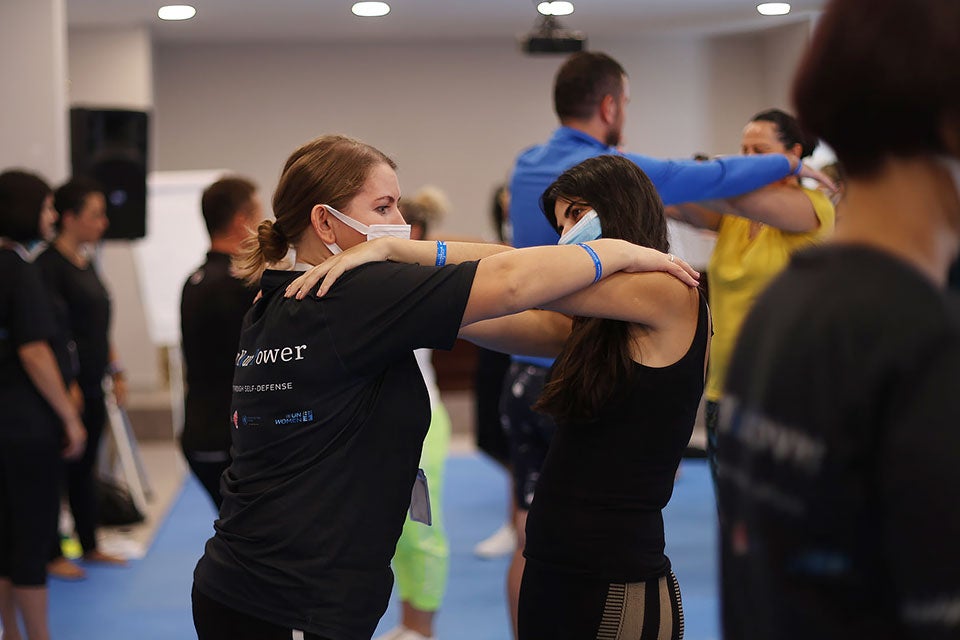 Between 2019 and 2021, over 900 individuals from across Albania have been introduced to ESD techniques and tools for physical self-defense, boundary-setting and recognition, emotional and psychological tools for self-care, and communication skills. The training sessions also focus on identifying gender stereotypes and how to stop perpetuating them across generations.
Michele Ribotta, UN Women Albania Representative, says, "This is a practical and tangible solutions-oriented approach, which equips you to remain safe in unsafe environments."
"We are very excited by the impact that these trainings had on participants and their willingness to share these skills with their students. This is the start of a journey, and we hope this will open the way to reaching out to all Albanian boys and girls with the ultimate goal of achieving gender equality and preventing violence," says Gentiana Susaj, Head Instructor in Albania and Director for Europe at ESD Global.
ESD trainings offer confidence-building and practical tools and solutions that can be applied to complicated and potentially volatile situations that may arise in the classroom. As a first step, participants learn techniques for preventing violence. The initiative aims to also develop self-discipline, improve students' ability to defend themselves, build self-confidence, and promote better communication skills among students and teachers.
Esmeralda Xheraj, Principal of the Sami Frashëri High School in Durrës, says the training was a unique experience. "Both the methodology and the trainers were exceptional. I think that our secondary schools are ready to welcome and teach this new methodology."
The newly trained teachers have begun to apply their learnings by offering students techniques for managing their emotions and strategies for mitigating violent situations. Students have praised the initiatives, stating that they are more prepared than before, particularly for handling situations with potential aggressors.
"We're part of a patriarchal society where girls are supposed to be weaker. We don't have to think of ourselves as inferior beings, but rather as equals," says a 15-year-old girl student.
"It makes me cry, thinking and seeing the trainings' impact," shares another student participant.
Previously, UN Women has collaborated with ESD Europe and Aikido Albania in preparing the first generation of ESD trainers in Albania who are now supporting vulnerable women and survivors of violence. The current initiative was supported by the UN joint project on gender-sensitive post-earthquake recovery and reconstruction, funded by the Government of Sweden through the UN Albania SDG Acceleration Fund, which focuses on supporting and empowering women in 11 municipalities affected by the November 2019 earthquake.
Petra Burcher, Head of Development Cooperation for the Swedish Embassy in Albania, says, "this is an innovative way to address the long-standing issue of gender-based violence. We hope to replicate it in our other programmes."
"I find it difficult to put into words how important this initiative is and the impact it will have on young people," says Bora Muzhaqi, Minister of State for Youth and Children. "This is life-changing."